Our Services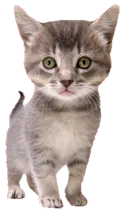 Tallahassee Regional Animal Hospital specializes in providing complete small animal healthcare to the pets of Tallahassee, FL and beyond. We offer an extensive range of comprehensive veterinary care services, from routine wellness care to advanced diagnostics to dentistry, surgery and just about everything in between. Rest assured that whatever your pet's care needs may be, we are well-equipped and prepared to meet those needs and to exceed your expectations!
Our friendly, knowledgeable staff of veterinary professionals is well-trained and experienced in all of the most modern animal healthcare techniques, which are performed in our state-of-the-art clinic using cutting edge technology and modern equipment. The care that we provide is designed to assist our patients through every life stage – from puppy and kittenhood on through the golden years. We want to help your pet enjoy a lifetime of good health!
In addition to complete veterinary medical care, Tallahassee Regional Animal Hospital also offers professional grooming services to keep your pet looking and feeling great, an expansive boarding facility and doggie day care services to provide top-notch care for your pet while you're away.
The comprehensive pet care services provided at Tallahassee Regional Animal Hospital include:

Wellness Care
Vaccinations
Dentistry
Radiology (x-ray)
Neurology
Laboratory
Orthopedic Surgery
Dermatology
Nutrition Counseling
Weight Management
Pharmacy
Microchipping
Boarding
Grooming
Doggie Daycare
We invite you to come visit our facility, meet our friendly staff and become a part of the Tallahassee Regional Animal Hospital family!